Cool and Refreshing Strawberry Lime Spritzer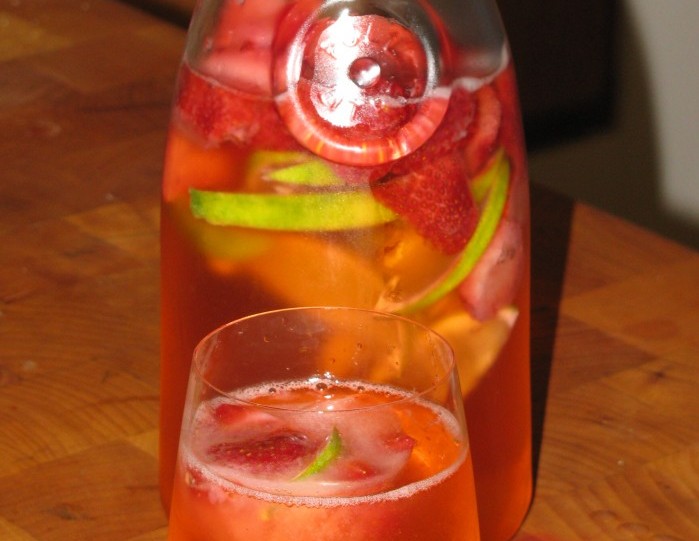 On a hot summer day this Strawberry Lime Spritzer will cool you right off! This is one of my favorites to have around the house all the time.
You can choose flat water or fizzy water, both work great! If you are trying to kick your soda habit you should go for a Strawberry Lime Spritzer. I think you will love the cool, refreshing taste and it will help curb your food cravings.
Like it sweeter? Add more strawberries and only 1/2 of a lime, adding more strawberries.
Makes 1-2 liters of Strawberry Lime Spritzer-
8 Frozen or Fresh Strawberries- See note above on freezing strawberries before making.
1 Lime
1-2 liters of Pellegrino or Club Soda- you can also use flat water.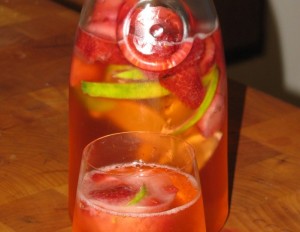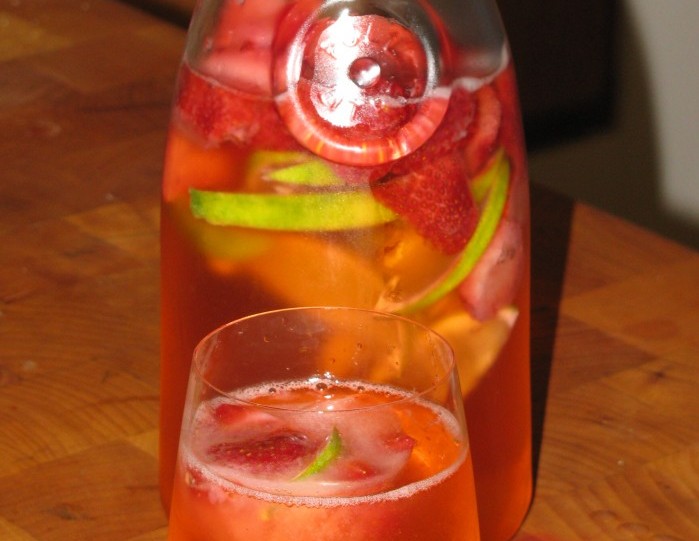 Slice the strawberries into three pieces and drop into the water or fill an infusion pitcher, then slice the lime into 10 wedges and add to the water. Chill for 3-4 hours and serve, if you like, try making some strawberry and lime ice cubes if you are serving with flat water. In an ice-cube tray place one strawberry slice and a lime slice, cover with water and freeze for 3-4 hours.
Check out our Fruit Infused Water Bottle and Pitcher reviews for information on the best flavored water infusers.
Find more Metabolism Boosting drinks like Strawberry Lime Spritzer, including Ice Cubes, Teas and Sodas all meant to help you drink more water and lose weight in my cookbook FRUIT INFUSION: A Collection of Day Spa Inspired, Fruit Infused Waters.