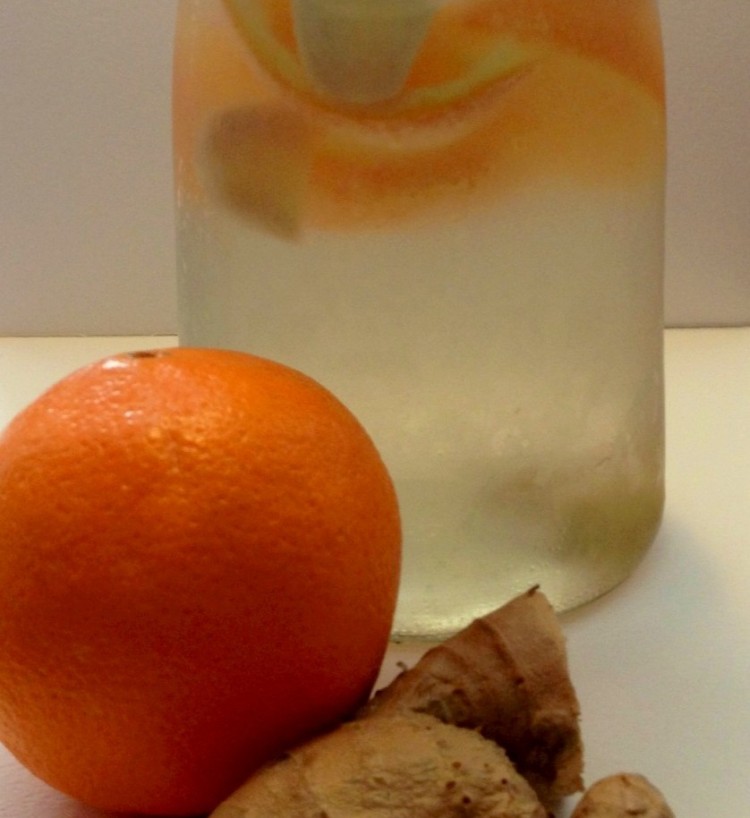 Ginger Orange Fruit Infused Water not only boosts your metabolism, it also is packed full of vitamin C to help you fight a cold. Plus the ginger helps with tummy aches, talk about a power water!!
If you're looking to lose weight or get healthy, but don't know where to start I've got your answer. WATER! Put down the sodas, the fake flavor packets and chemical packed additives and just drink good clean water. "But I don't like the taste" you say? That's OK, this drink is meant to help you put down the chemicals and go all natural using delicious additives from nature.
Find more fruit infused water recipes here and at Lose Weight By Eating.
The following recipe makes 1 liter, so if you have a 2 liter container double the ingredients, and so on.
½ orange
1 inch chunk of ginger
½ cup ice
Remove the skin from the ginger with a spoon or vegetable grater and slice into coin sized rings. Add to the bottom of your pitcher.
Slice the orange into wedges or rings and add to your pitcher gently squeezing (just a little) to help release the juices as it sets.
Top with ice, this part is important whether you enjoy your water cold or at room temperature as it holds down the fruit to better infuse the water.
Place the pitcher in the fridge, or on your counter top if you like room temperature, for one hour before serving.
When you have poured ½ of the infused water from your pitcher, fill back to the top with water. This will help preserve the flavor so you won't have to start over again when you finish the pitcher. Fill up, up to 6 times in a day, or until the flavor is lost.
Store in your fridge for up to 24 hours.
Check out our Fruit Infused Water Bottle and Pitcher reviews for information on the best flavored water infusers.
Find more Metabolism Boosting drinks like Ginger Orange Fruit Infused Water, including Ice Cubes, Teas and Sodas all meant to help you drink more water and lose weight in my first cookbook FRUIT INFUSION: A Collection of Day Spa Inspired, Fruit Infused Waters.