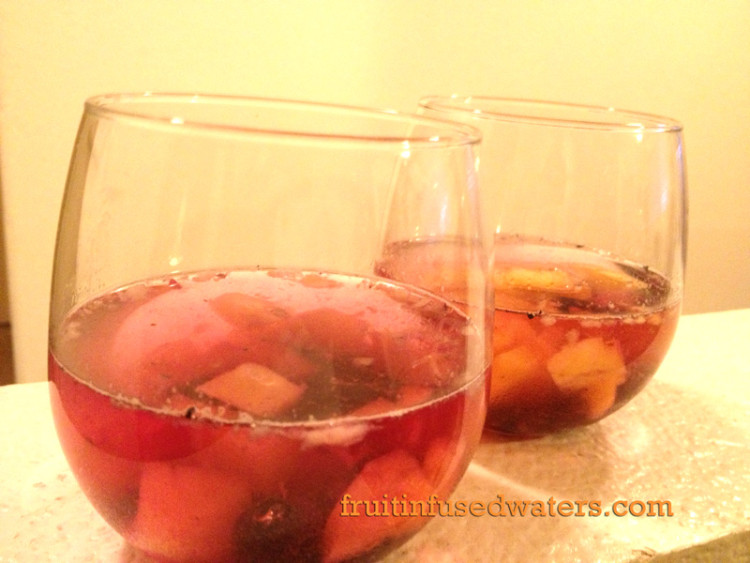 This delicious sweet Pineapple Blueberry Infused Water is a great drink to start the day with. The blueberries stain the color a lovely hue and release flavor immediately. Pineapple is super sweet and adds a ton of flavor to this drink.
Perhaps the best part of Pineapple Blueberry Infused Water is the boost in Vitamin C that if gives you, which naturally raises your metabolism. Pineapple has one of the largest content of vitamin c of all fruits, making it a great option for snacking on and adding to your drinks.
Makes 1 liter, if you have a 2 liter pitcher double the ingredients, and so on)
Ingredients:
½ cup pineapple cut into chunks
1/3 cup frozen blueberries
½ cup ice
Get Started:
Add the pineapple chunks and blueberries to the bottom of a pitcher. Top with ice, this part is important whether you enjoy your water cold or at room temperature as it holds down the fruit to better infuse the water.
Place the pitcher in the fridge, or on your counter top if you like room temperature, for one hour before serving.
When you have poured ½ of the infused water from your pitcher, fill back to the top with water. This will help preserve the flavor so you won't have to start over again when you finish the pitcher. Fill up, up to 6 times in a day, or until the flavor is lost.
Store Pineapple Blueberry Infused Water in your fridge for 24 hours. You can eat the fruit for a tasty treat, too!
This Pineapple Blueberry Infused Water recipe has helped 1000′s of people lose weight!
Check out the PROOF and find out how Lose Weight By Eating lose over 1000 pounds per month here.
Check out more Metabolism Boosting drinks like Pineapple Blueberry Infused Water, including Ice Cubes, Teas and Sodas all meant to help you drink more water and lose weight in my first cookbook FRUIT INFUSION: A Collection of Day Spa Inspired, Fruit Infused Waters.