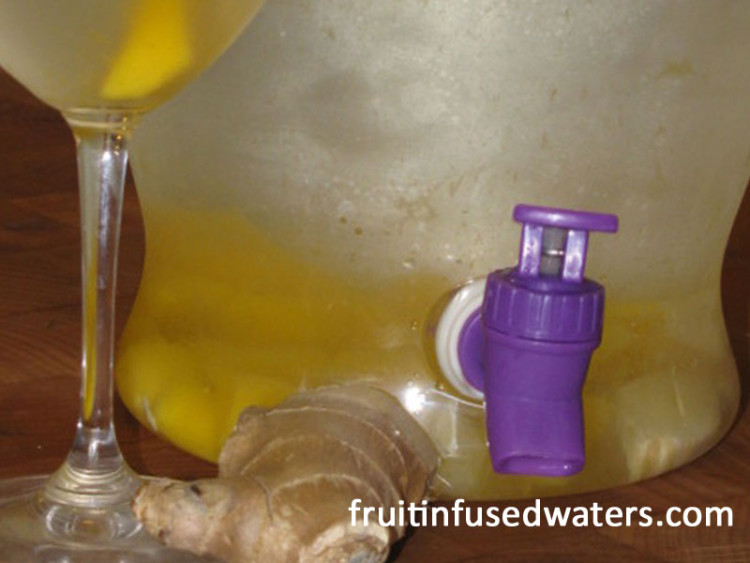 Try this delicious Mango Ginger Water recipe which boosts your metabolism, acts a natural pain reliever for migraines to menstrual cramps, and heals a lot of pain. It also helps reduce morning or motion sickness and banishes heart burn!
Mangos not only boost metabolism, they also aid in digestion, boost your memory and increases your sex drive! This one little drink will do a lot for your body, so make a big pitcher of Mango Ginger Water today and enjoy.
Makes 4 liters, refill 4 liter pitcher 2-4 times until flavor is lost.
Ingredients:
1 inch Ginger Root, peeled and sliced
1 cup Frozen Mango- fresh is fine too
Get Started:
To peel the ginger use the back of a spoon or a vegetable peeler, just peel the part that you will be using. Using a sharp knife slice ginger into 3-4 coin sized slices. You want them about the size and thickness of the coin.
-Drop into your pitcher and add in the mango.
-Top with 3 cups of ice and then add with water.(the ice is important, it holds down the ginger and mango to help infuse the water)
-Place in your fridge for 1-3 hours before serving.
-When serving add a couple frozen mango chunks in a pretty glass for ice cubes.
Mango Ginger Water will keep in the fridge for 24 hours.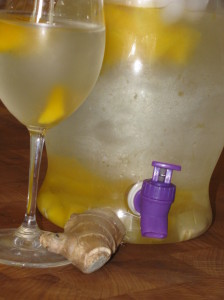 You can use fresh or frozen mango, I like frozen because I don't have to cut and it is always picked at the peak of the season and frozen so if I can't get mangos in season I can still always have some in the house. Plus they are like little ice cubes here, fun! I highly recommend you use fresh ginger, the powdered just does not taste the same and will clump in your water. Check your farmer's market or the produce section of your grocery store for ginger, you can store in freezer to make it last longer.
Check out our Fruit Infused Water Bottle and Pitcher reviews for information on the best flavored water infusers.
This detox Mango Ginger Water recipe has helped 1000's of people lose weight!
Check out the PROOF and find out how Lose Weight By Eating lose over 1000 pounds per month here.
Check out more Metabolism Boosting drinks like Mango Ginger Water, Ice Cubes, Teas and Sodas all meant to help you drink more water and lose weight in my first cookbook FRUIT INFUSION: A Collection of Day Spa Inspired, Fruit Infused Waters.