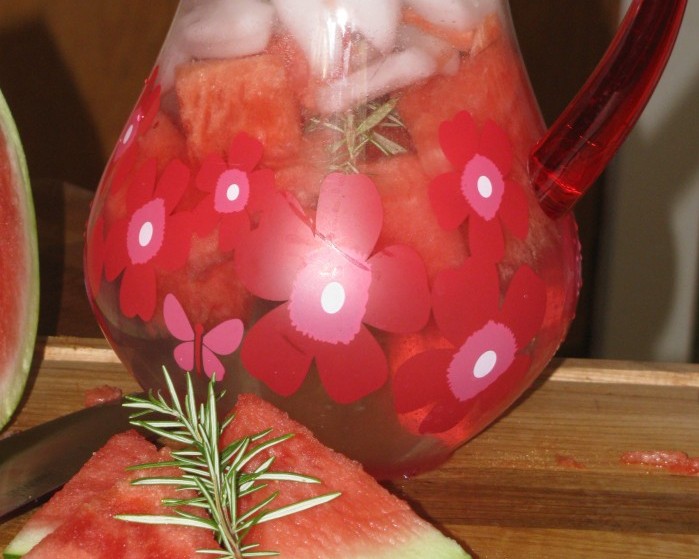 This delicious Watermelon and Rosemary Power Water helps hydrate you and maintains your fat burning after a workout.
Also, check out my Mango Basil Water and my Apple Cinnamon Water, one Boosts Metabolism and the other is a Natural Anti Inflammatory and helps Cure a Hangover. Can you guess which does what?
Makes one big pitcher, refill 3-5 times-
2 cups Chopped Watermelon
2 large Sprigs of Rosemary
In a large pitcher drop in the watermelon and rosemary, cover with ice and then water. Place in fridge for 10 minutes before serving. Once the water is 1/2 way gone refill with cold water, keep doing that 3-5 times before replacing watermelon and rosemary.
Makes 1 one liter  water bottle, refill 3-5 times-
1/4 cup Thinly sliced Watermelon
1 small Sprig of Rosemary
If the water bottle is full dump some out to make room for the watermelon, if empty put the watermelon and rosemary in first and then add water. Shove the watermelon and rosemary into your water bottle put in fridge for 10 minutes, that's it! Refill when it gets 1/2 way down with cold water, do that 3-5 times before adding more watermelon and rosemary.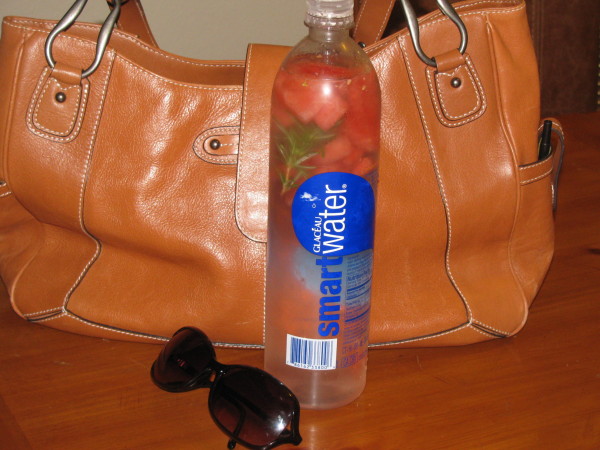 *A note on the water bottle method, you will not be able  to get the watermelon and rosemary out so don't use something you will want to keep unless it has a wide mouth.
This fat burning recipe was written for the Workout Chapter of my first cookbook FRUIT INFUSION, a colorful cookbook full of metabolism boosting, fat burning drinks, teas, sodas and ice cubes. With over 40 recipes to choose from you and your taste buds will never be bored with water again!