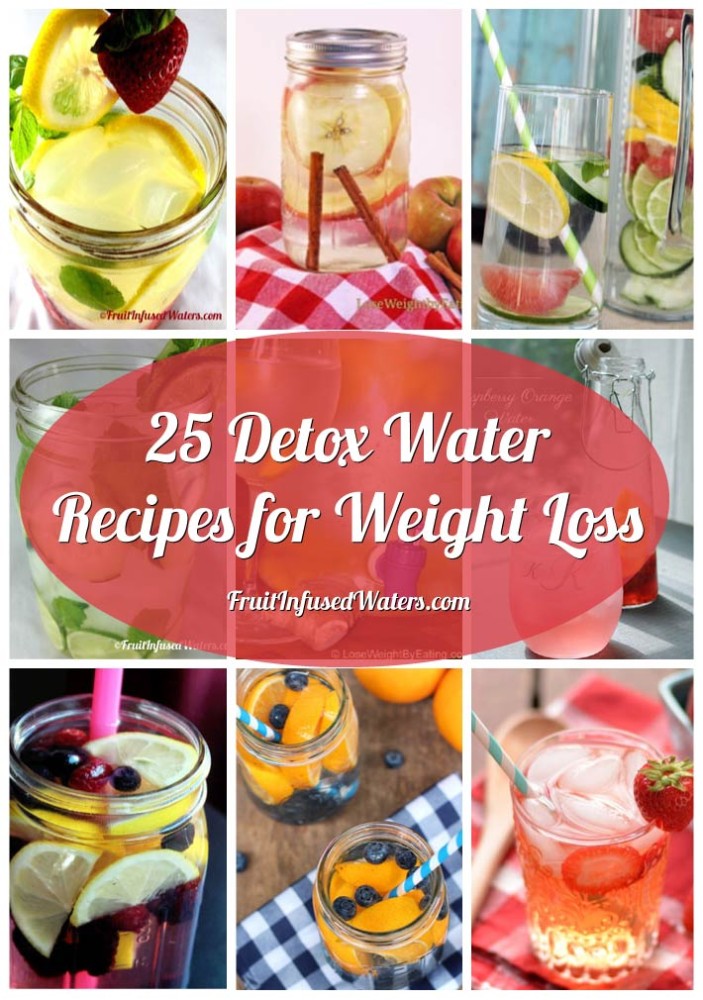 Detox water is one of the most popular tools for weight loss to come around in a long time, and for great reason. In addition to tasting delicious, it helps flush your body of toxins and improves your water daily intake. Drinking water is one of the best things you can do for weight loss and better health, it tastes delicious, has no calories, and it fills your stomach so you don't feel as hungry. Studies have shown that just drinking water raises your metabolism!
Water is an important part of any diet and exercise program, as well as every other bodily function you can imagine. It's a big part of your muscles, and is critical for energy production. If you want to ensure that you'll always feel your best – drink lots of water.
Here are some of the most popular detox water recipes we found to give you some ideas. Always feel free to experiment with new ingredients, and you'll never be bored with water again.
Here's a tip: Get a portable fruit infused water bottle and and your water intake will skyrocket!
1. Detox Apple Cinnamon Water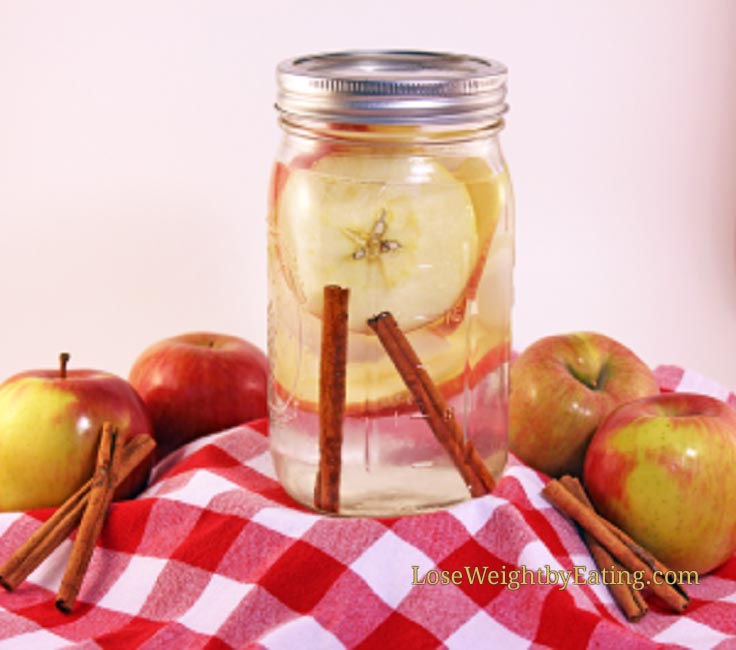 This classic recipe was first made famous by Audrey Johns on her blog LoseWeightbyEating.com back in 2012. Since then it has turned into a worldwide phenomenon and has helped open up a new infused water craze.
Not only does this recipe taste delicious (the apples and cinnamon in this recipe help make any day feel like Fall), it also has a lot of health benefits. The phytonutrients and antioxidants in apples may help reduce the risk of developing cancer, hypertension, diabetes, and heart disease. And the cinnamon also has a lot of great health benefits, too, making this an ideal detox water.
Detailed recipe and credit – loseweightbyeating.com
2. Slim Down Detox Water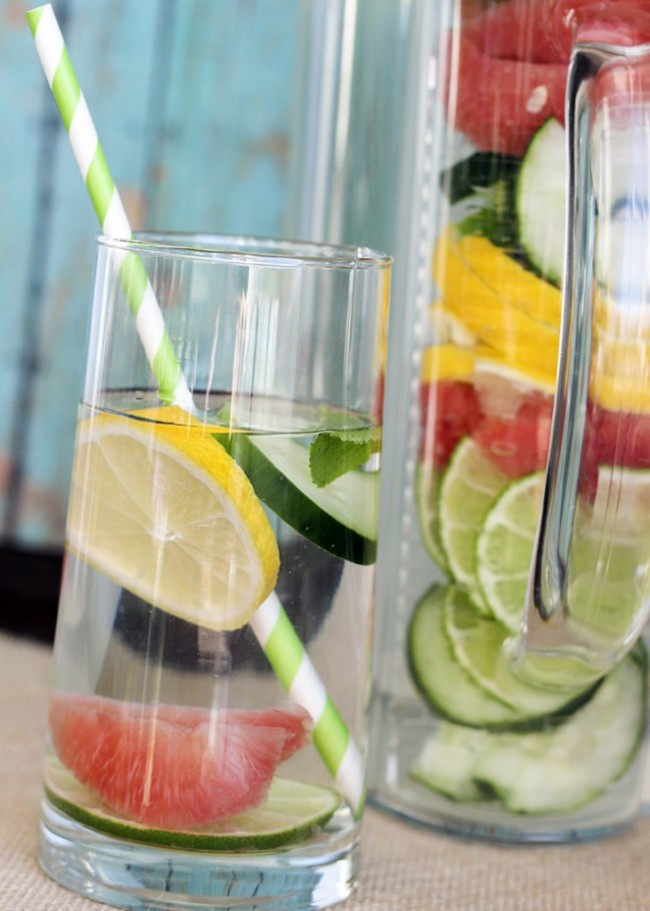 This is a really popular recipe that makes a good all around detox water. The tartness of the lemons is balanced with the unique, mellow taste of the cucumbers, and the sweetness of the grapefruits helps add a nice element of flavor.
The double serving of citrus in this tangy recipe helps provide a healthy dose of Vitamin C, which is full of antioxidants and has many amazing health benefits, including protection against immune system deficiencies, cardiovascular disease, prenatal health problems, eye disease, and even skin wrinkling.
Make a batch of this in a pitcher and have it available any time, your family will love it.
Detailed recipe and credit – skinnymom.com
3. Blueberry and Orange Detox Water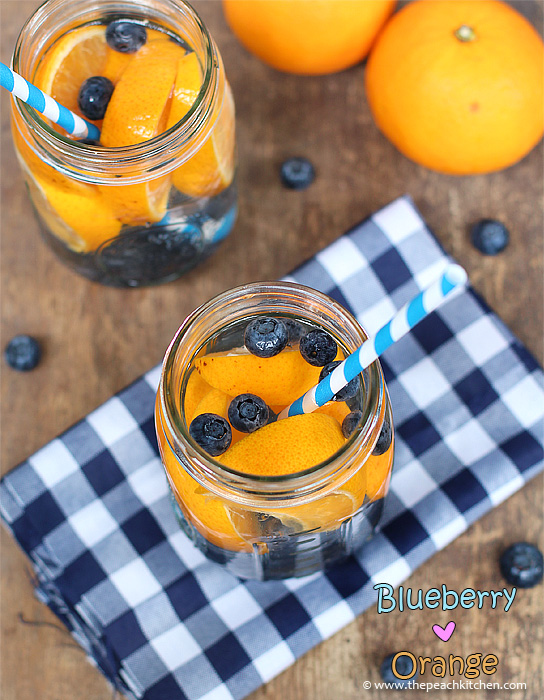 This simple recipe is as beautiful to look at as it is delicious to drink.
This recipe is not exactly a "detox" drink, but let's be honest here, water is the key! If you can get in your water each day, you'll naturally increase your metabolism and flush your system. This recipe was made to simply make water taste more delicious, and here at Fruit Infused Waters, we can get behind that. But that doesn't mean the other ingredients don't do their part as well.
The mandarin oranges are packed full of Vitamin C which is known to increase metabolism and help tone up skin. The blueberries are packed full of antioxidants and fiber making them a super food that makes you healthier, more beautiful and best of all, they naturally curb appetite.
Detailed recipe and credit – thepeachkitchen.com
4. Watermelon and Mint Detox Water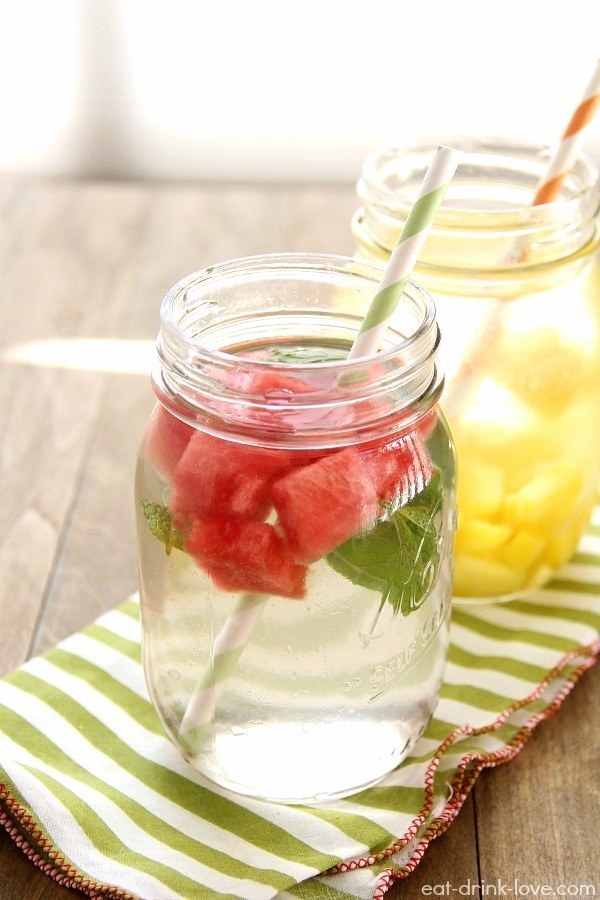 This post is brought to you by a parched woman living in the Arizona desert. After a long summer she found she no longer enjoyed the taste of the water her body desperately needed to stay healthy and hydrated in the over 100 degree summers. So here she brings you her favorite combinations while encouraging you to make your own.
Try her creations, we love her Raspberry Lemon but you might prefer her cooling and hydrating Watermelon Mint. With 4 to choose from and ideas for your own fruit and herb mixtures you'll find yourself playing water chemist and chef in your own kitchen.
Detailed recipe and credit – eat-drink-love.com
5. Day Spa Mango Ginger Water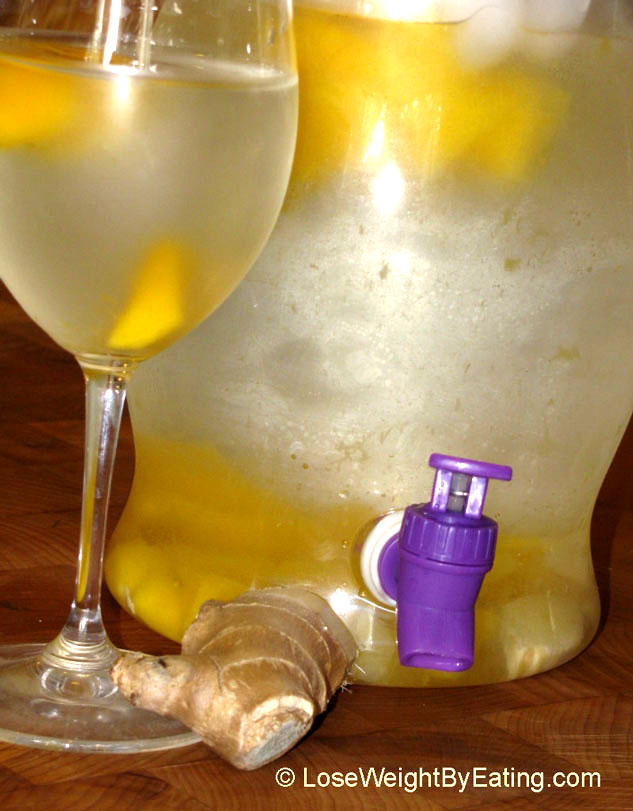 This is one of my most popular recipes on my Pinterest page, as well as on my clean eating blog. The taste is amazing! The ginger and mango gives this infused water recipe a terrific flavor, while providing some beneficial ingredients to make you feel good.
Mangos are not only known to boost metabolism, they also aid in digestion, help boost your memory and can even help increase your libido! This Mango Ginger Detox Water will do a lot of good things for your health, so make a big pitcher today and enjoy.
Detailed recipe and credit – loseweightbyeating.com
6. Raspberry Orange Water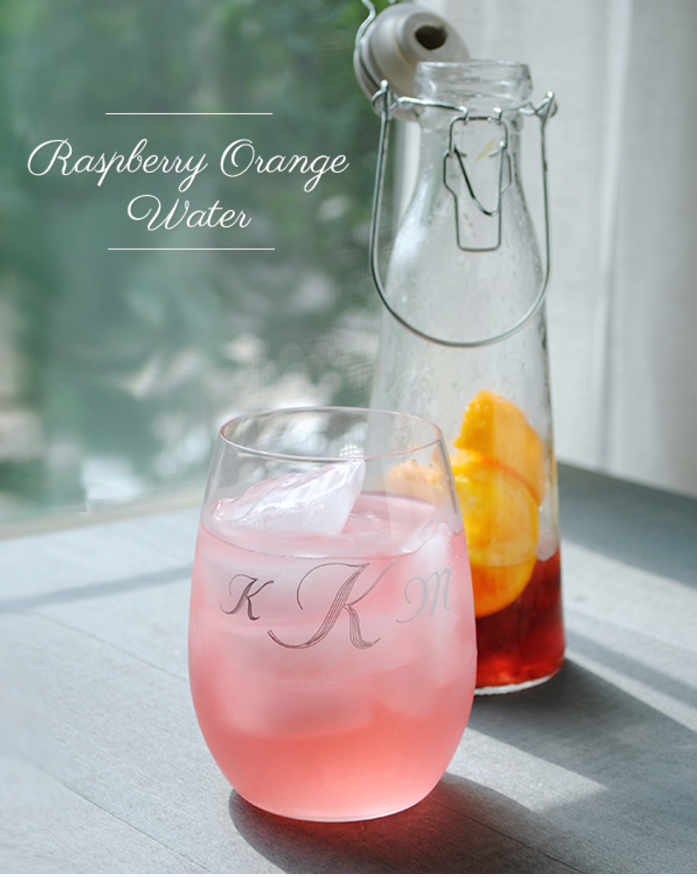 This detox water recipe combines two of my favorite infused water ingredients, raspberries and oranges! Oranges are not only delicious, they provide a tremendous boost of vitamin C, which is an important antioxidant that helps fight inflammation, premature aging, and even helps fight the common cold.
The raspberries are a yummy little fruit that always reminds me of summers at my grandparent's farm. My grandmother would pick a huge batch of raspberries and we'd eat them with milk and sugar.
This recipe makes a great summertime treat, so try making a batch on a hot day and you'll understand what makes this drink so good.
Detailed recipe and credit – lover.ly
7. Classic Cucumber Water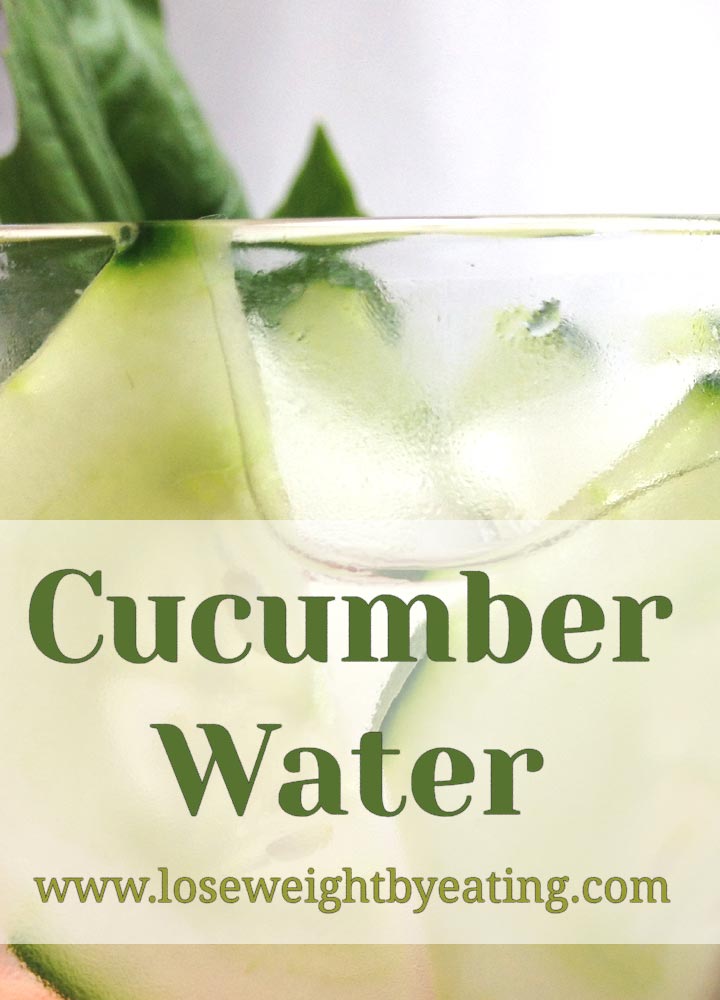 When it comes to detox water, Cucumber Water is the king of them all. It was one of the first infused water recipes to appear at Day Spas and Health Clubs, and a huge amount of recipes are based on some variation of the original cucumber water.
Cucumbers contain a lot of healthy benefits, including vitamins, flavonoids, and other healthy compounds that fight inflammation, protect your brain health, and even freshens your breath!
It's important to choose organic cucumbers as they are ranked among some of the most contaminated foods for pesticide contamination.
Detailed recipe and credit – loseweightbyeating.com
8. Lemon Berry Detox Water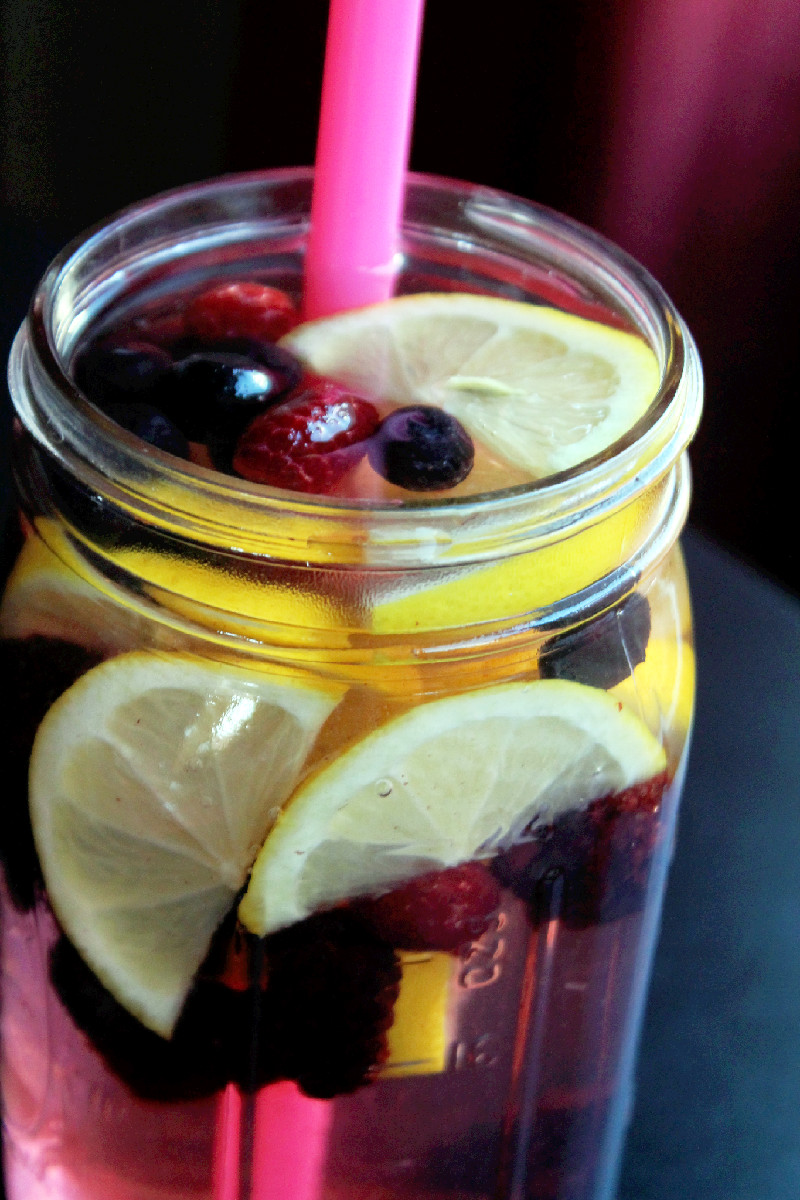 This is a tasty detox water recipe that combines a few very flavorful ingredients – lemons, blueberries, and raspberries. All of these fruits add a delicious flavor component to the recipes, in addition to providing plenty of vitamin C, an important antioxidant.
This recipe makes a good party water recipe your friends will be impressed with and your family will love thanks to it's cool colors. The blueberries and raspberries in the water change the color of the water to a neat crimson/blueish color. With the bright yellow lemon slices mixed in, it looks like a neon party in a pitcher!
Detailed recipe and credit – notquiteavegan.com
9. Strawberry, Mint, and Lemon Water Detox Drink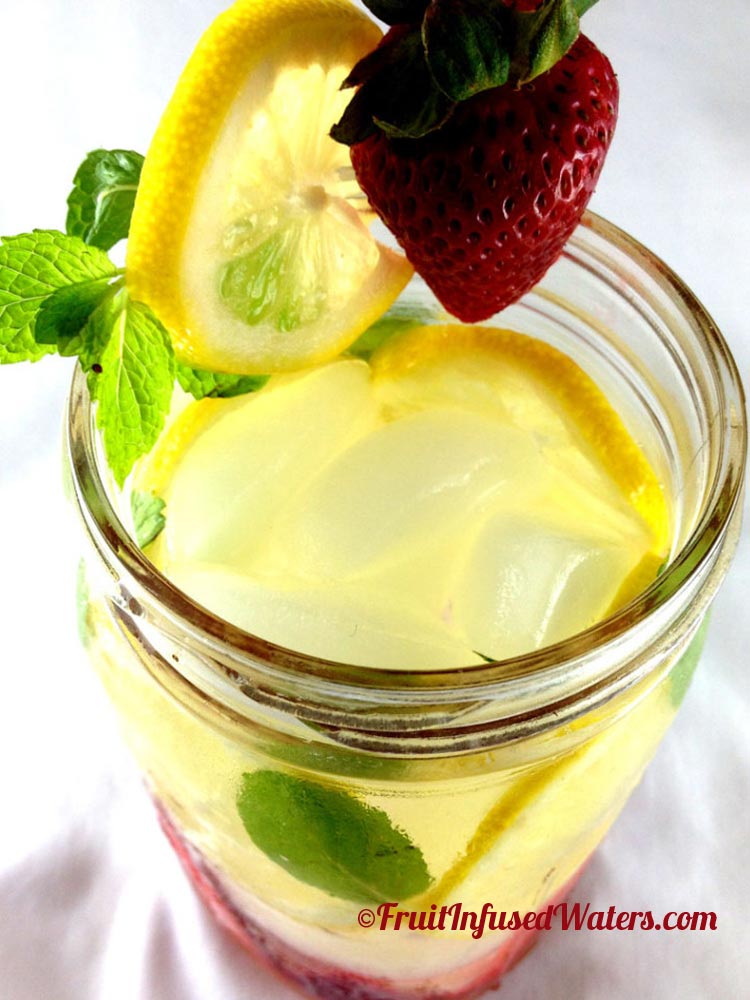 Strawberries are a hugely popular detox water ingredient, and this recipe combines them with the best ingredients ever! The delicious sweetness of the strawberries is balanced with the tartness of the lemons, and the cooling mint flavor rounds it out perfectly.
If you pack the strawberries into the bottom of the glass below the ice, and top it with the bright yellow lemon slices, you get a neat triple layer color effect with small green mint leaves mixed in. It end up looking like a really fun drink, delicious and beautiful, too!
Detailed recipe and credit – fruitinfusedwaters.com
10. Skinny Detox Cucumber Water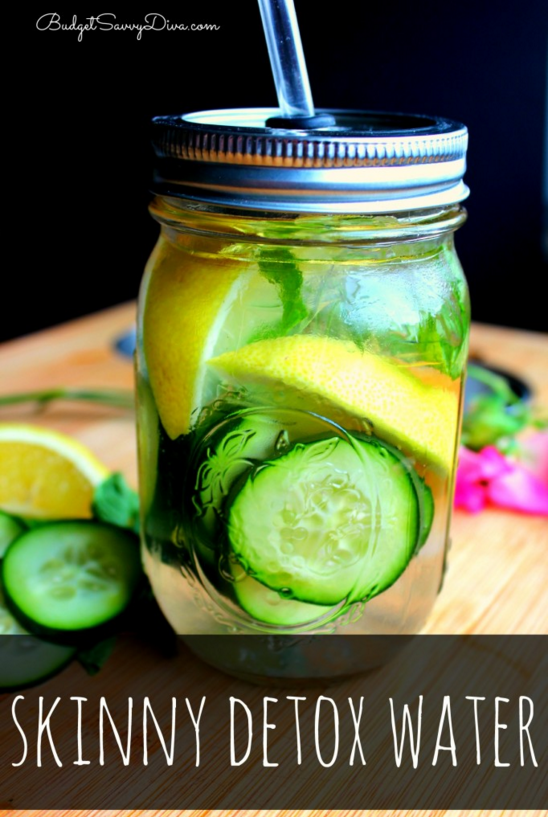 This is a really flavorful detox water recipe that combines a number of ingredients that not only taste great, but also have known metabolism boosting properties. It contains some of my favorite ingredients: lemon, lime, grapefruit, cucumber and mint – all full of healthy vitamins and antioxidants, as well as being packed full of wonderful flavors.
This recipe also makes a good one to put into a fruit infused pitcher since it contains so many ingredients, but you can also pack a good sized mason jar as well if you only need one serving.
Detailed recipe and credit – budgetsavvydiva.com
11.  Blueberry Lavender Water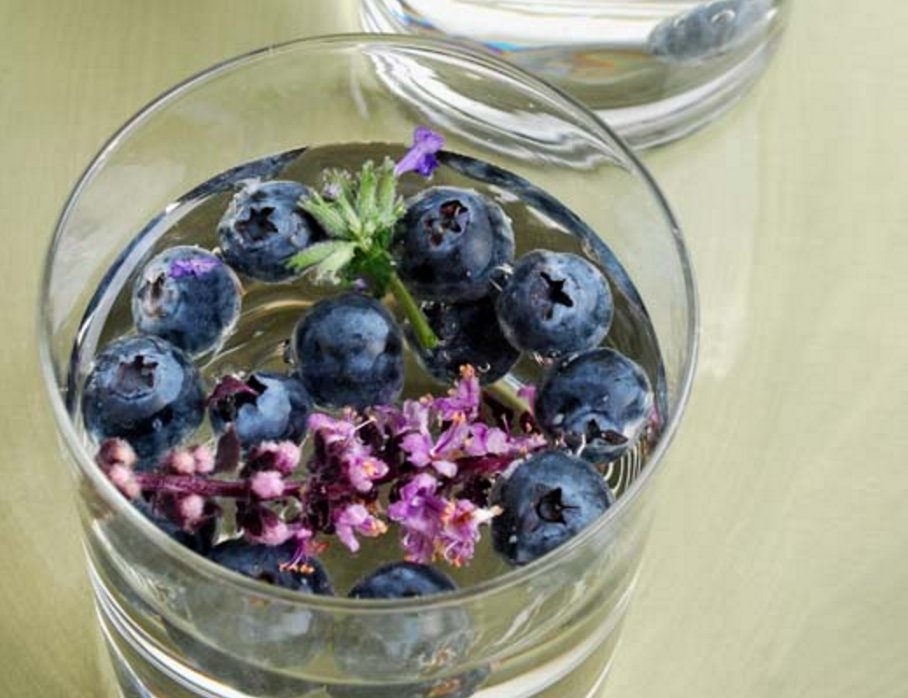 Here's a really different concept for a detox water recipe – this one includes edible flowers! Are edible flowers good for you? The answer is YES!
Edible flowers are natural plants like any other vegetable or fruit, and some flowers contains special unique healthy nutrients that are beneficial to your body.
The blueberries are rich in antioxidants and taste great as well.
Serve this unique detox water at your party and you'll be sure to give your friends something they'll all remember. Just remember not all flowers are edible, so do your homework first.
Detailed recipe and credit – melissas.com
12. Apple Cider Soda Detox Drink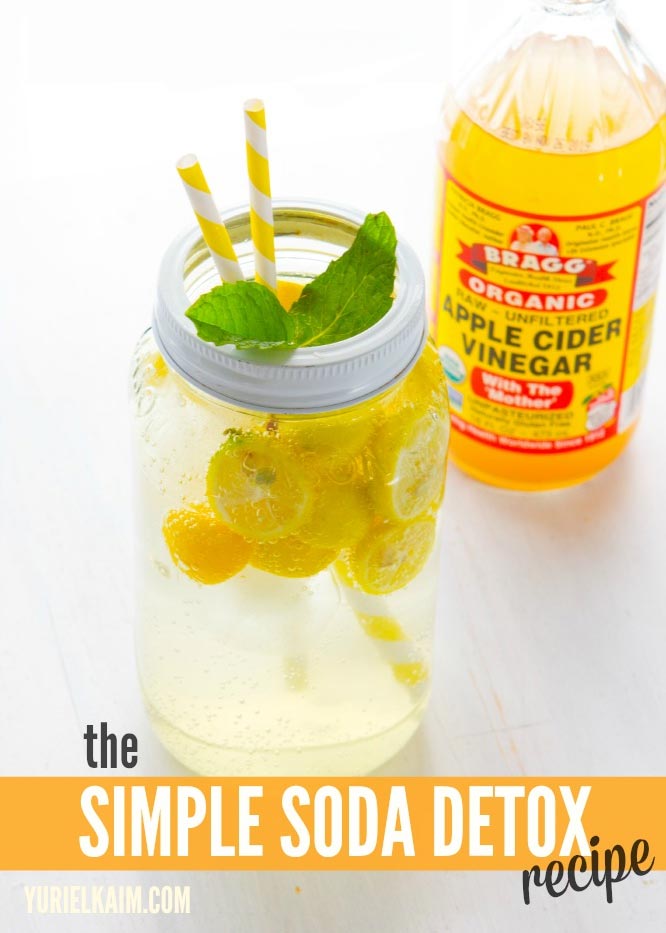 It's time to break that soda habit, and this drink was created to help you do just that. Read up on how your favorite pop is killing you, this post will give you all the gory details, but it's not just about the negative, it clearly spells out a healthy alternative. So next time you crave something bubbly, try this instead, we find most often it's the bubbles we crave, not the flavor of the soda. Plus this one will help you lose weight and detoxify your body.
Apple Cider Vinegar is gaining in popularity due to it's numerous health benefits, it naturally helps to detoxify your body. Paired with the lemon, a natural fat burner, and you have a soda pop that is actually good for you!
Detailed recipe and credit – yurielkaim.com
13. Strawberry Spa Water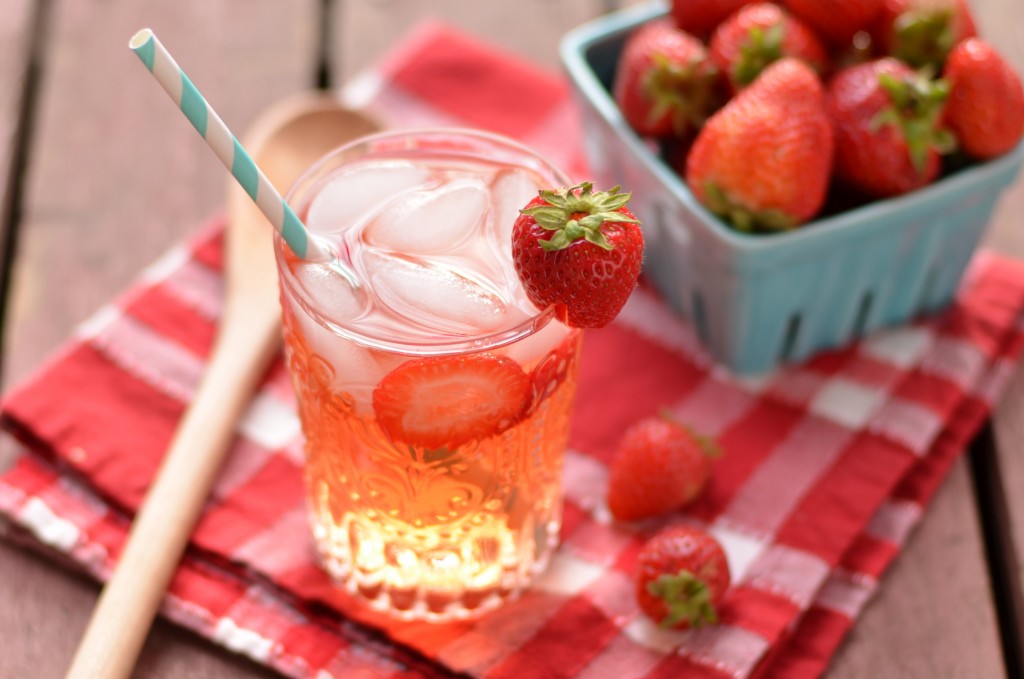 This post is like a picture book, for adults who love food! It's packed full of stunning full color photos that make you want to lick your computer screen (not recommended at work, you may get weird looks).
Strawberry water is easy to make, and delicious to drink. You can find frozen strawberries year round, so don't fret if you are reading this in the middle of winter.
Strawberries are packed full of vitamin C, naturally increasing metabolism. They are also natural antiinflammatories making them perfect for enjoying after a workout, reducing muscle soreness, opening up breathing passages and reducing bloat.
Detailed recipe and credit – coffeeandquinoa.com
14. Detox Lemon and Lime Water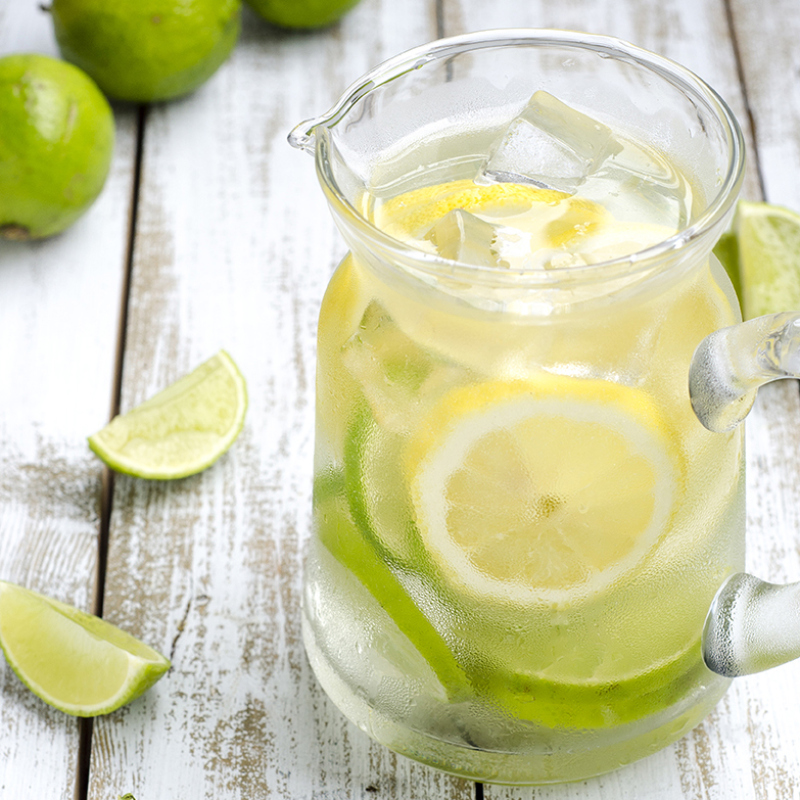 Put down the fat storing, calorie and chemical packed lemon lime soda and pick up this fat burning, all natural detox drink.
We love that this drink can be made at home and even while you're eating at a restaurant! Next time you place your drink order ask for water and a small plate of lemon and lime wedges. Pair that with a healthy salad and you can call the meal a "win".
Lemons and limes are packed full of fat burning, metabolism boosting, skin clearing and firming vitamin C. Paired with water (also a metabolism booster and known to clear up skin) you'll look and feel amazing in no time, so drink up.
Detailed recipe and credit – houseoftreats.org
15. Tropical Pineapple and Orange Infused Water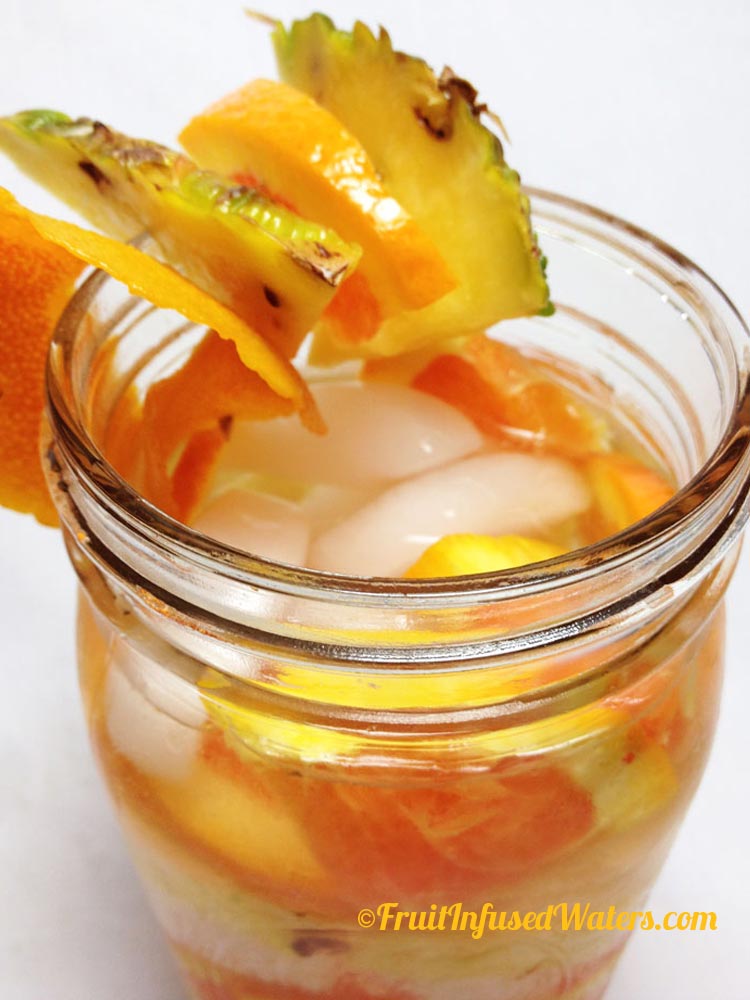 This tropical drink tastes like a vacation, but acts like a fat burning powerhouse! It's the perfect drink to increase fat loss and if you drink it while on the treadmill you just might forget you're exercising all together.
Pineapple and oranges pack this drink full of Vitamin C, naturally increasing metabolism, flushing fat and toning up your skin! We love to drink this during and after a workout, it keeps your body burning fat long after your workout is over and also helps your body repair itself, reducing muscle soreness.
But don't let all our exercise talk deter you from drinking this yummy water all day long (even on days you skip the gym) it will even help you increase your metabolism while you're binge watching TV.
Detailed recipe and credit – fruitinfusedwaters.com
16. Detox Lime Cucumber Mint Water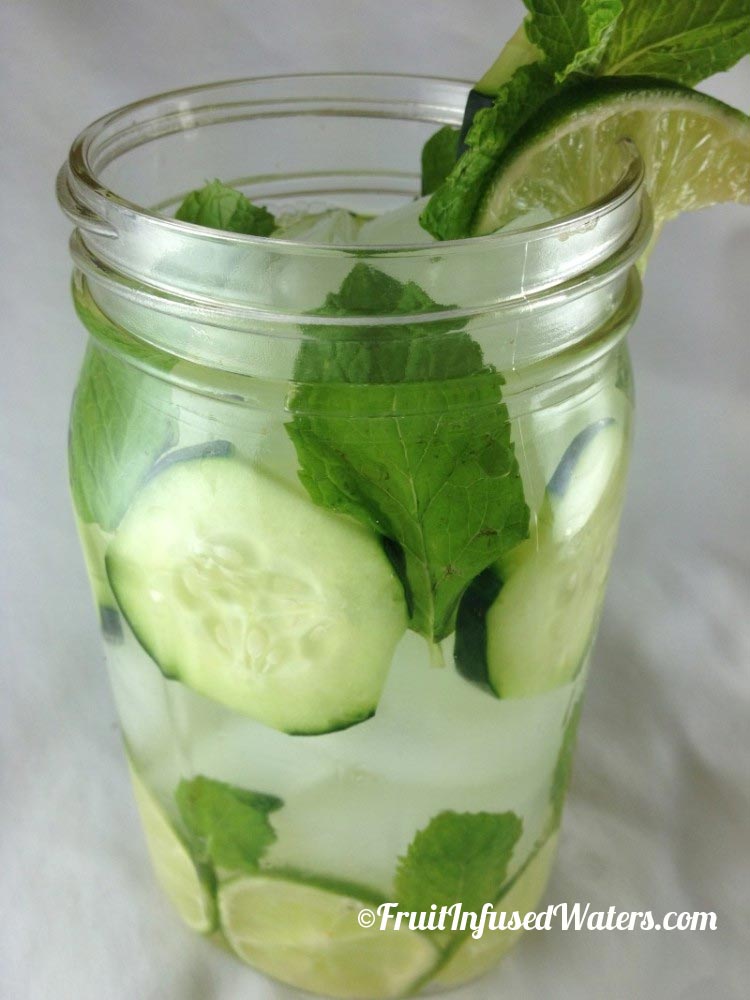 This is the perfect recipe for cooling down on a hot day. The slightly bitter taste of the cucumbers is perfectly balanced with the tangy sweetness of the limes, and the mint provides an almost candy-like aroma giving this recipe a wonderful flavor.
It's perfect for a summer BBQ or bridal shower. Try serving it in a wine glass with a few frozen cucumber slices, and your guests will think you are one chic lady.
It also looks beautiful with lime slices lined up along the inside of a pitcher or mason jar, with the ice behind it.
Detailed recipe and credit – fruitinfusedwaters.com
17. Apple Cider Vinegar Detox Drink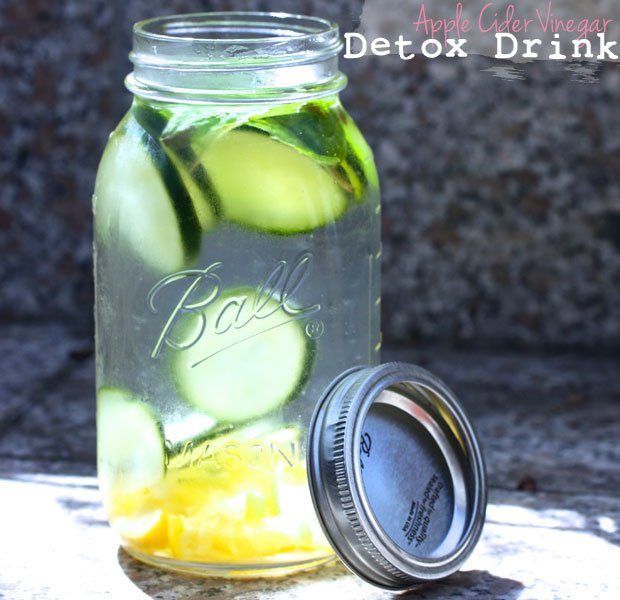 Apple Cider Vinegar is currently having it's 15 minutes of fame, it's gaining in popularity do to it's numerous health and detoxification benefits. It removes toxins from the blood and liver and aides in digestion making it ideal for a detox drink.
This drink takes the super ingredient to the next level with bloat reducing cucumber, metabolism boosting lemon and headache relieving mint.
The author is a big fan of the flavor of vinegar, but don't let that scare you off, she recommends you start slow, adding in just a tablespoon of apple cider vinegar, working your way up after you get used to the taste.
Detailed recipe and credit – sugarfreefairy.com
18. Lemon Water & Cayenne Pepper Detox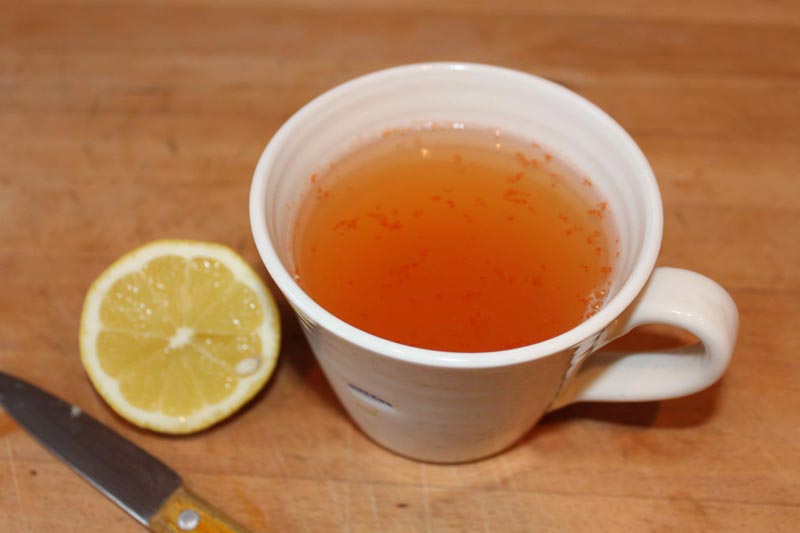 If a fast is what you're looking for, this is the drink for you. Though we recommend a healthy diet as opposed to a fast, we felt this was an important drink to include.
This Lemon Water and Cayenne Pepper Detox first became famous in 1976, in a book called "The Master Cleanser" and has been reintroduced in 2004 in a book called "Lose Weight, Have More Energy & Be Happier in 10 Days" and made famous by celebrities like Beyoncé and Jared Leto who use it to slim down fast.
With this drink you skip all solid food for a week and only consume this drink, if you are looking for something this drastic (and you are under the care of a doctor) go ahead and try it, though a healthy diet will give you more long term results than a one week fast.
Detailed recipe and credit – livestrong.com
19. Jillian Michaels Detox Drink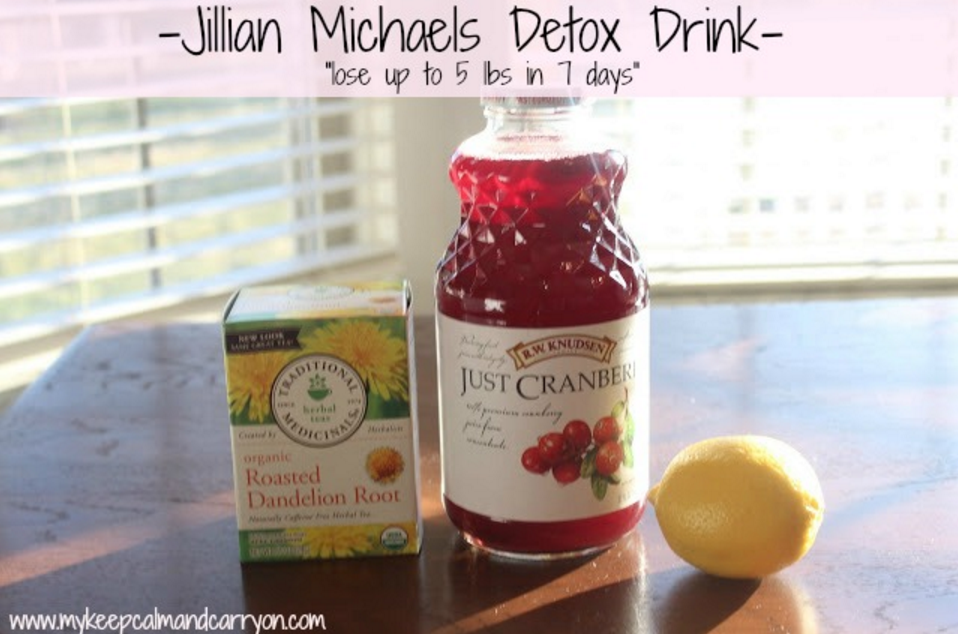 Jillian Michaels is a household name, her no nonsense style has inspired many to get off the couch and hit the gym. As a celebrity trainer, Jillian has the experience (and the abs) to prove she knows what she's talking about when it comes to weight loss and fitness.
This post details the pros and cons of this now famous drink, as well as the now famous drink recipe. Follow the reader's journey and find out how much she lost and how she felt, and be ready for some honest answers too. This post is great for the sceptics, and for the Jillian disciples as well.
Detailed recipe and credit – mykeepcalmandcarryon.com
20. Aloe Water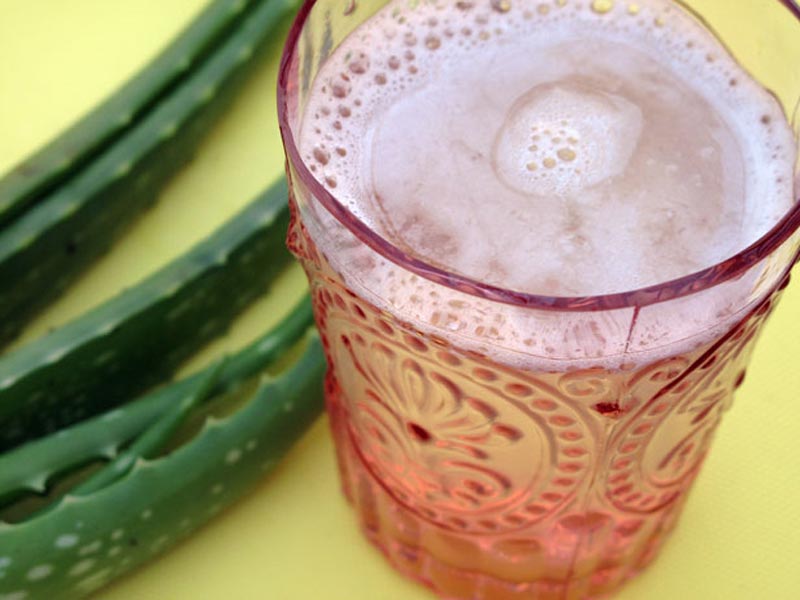 Most of us have had an encounter with Aloe Vera, most likely due to a bad sunburn, but have you ever made your own Aloe Vera Water?
Sure you can buy Aloe Water at your local health food store, but many people are eager to DIY and make their own. This post gives clear directions (with helpful, full color photos) to making your own Aloe Water at home.
Aloe isn't just for your skin, when consuming this succulent you are packing your body full of nutrients that naturally increase energy and fight fatigue, all while helping to increase circulation and digestion.
Detailed recipe and credit – diynetwork.com
21. Citrus Cucumber Detox Water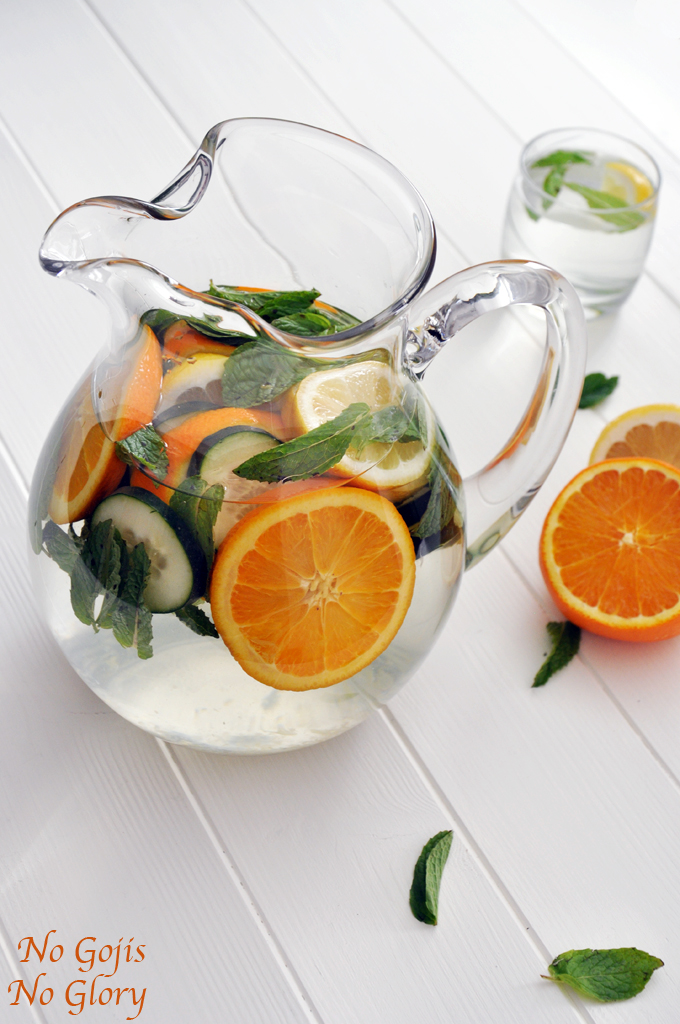 Trying to beat the summer heat? This cooling detox drink will cool you down and help you look hot in your summer clothes!
This drink boasts liver cleansing and clear digestive tract in the vitamin C packed lemons and oranges (vitamin C also naturally increases metabolism!), along with breaking down body fat and toxins. Mint also aids in digestion and breaks down fat, all while cooling your body.
Lastly the cucumber helps reduce bloat and works together with the mint to help you cool off naturally… so next time someone tells you to "chill out" take their advice and make yourself a glass of this Refreshing Detox Water.
Detailed recipe and credit – nogojisnoglory.com
22. Cooling Peach Mint Water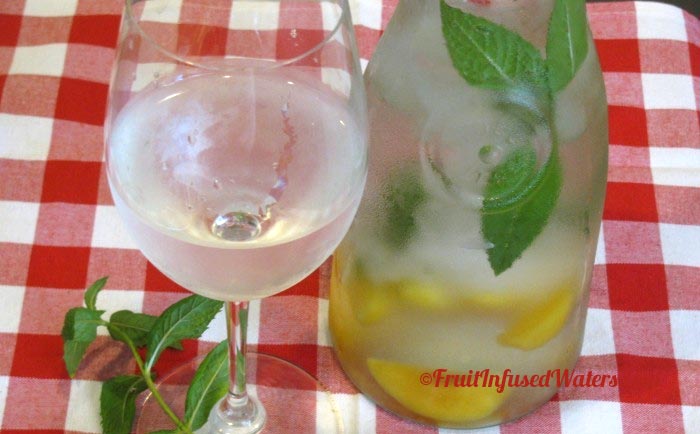 If you're looking for a drink to help you make it through a hot day (or a hot flash) this is the drink for you. The water and mint act as natural air conditioning, cooling you down and keeping you cool for hours. The water and mint also naturally suppress your appetite, so the next time you feel the craving for a sweet treat or an unscheduled snack, make yourself a glass of this Peach Mint Water. You'll be slimming down in no time, all while increasing metabolism, hydrating and relieving bloat.
Peaches are packed full of natural sweetness and perfectly pair with the bloat relieving mint, if you like a sweeter drink, simply add a few frozen peach slices to your glass in lieu of ice.
Detailed recipe and credit – fruitinfusedwaters.com
23. Lemon Ginger Detox Drink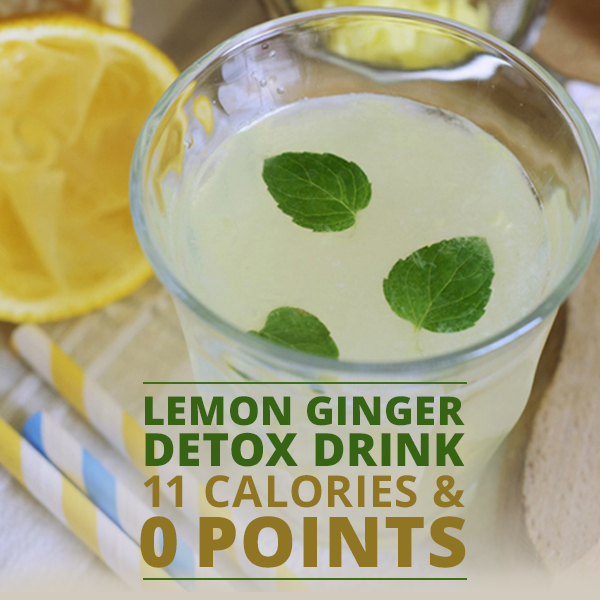 This is one of those detox water recipes that not only tastes really good, but it has some very special qualities that may help you feel better and cleanse your body as well.
The lemon provides the sweetness in this recipe, while the ginger provides a unique flavor that makes this recipe special. Ginger is known to have a long history of providing relief for nausea, pain, inflammation, motion sickness, loss of appetite, and many more healthful benefits. Ginger is also known to boost metabolism, making this detox drink a fat burning powerhouse
Detailed recipe and credit – skinnyms.com
24. Sweet and Delicious Pineapple Cucumber Water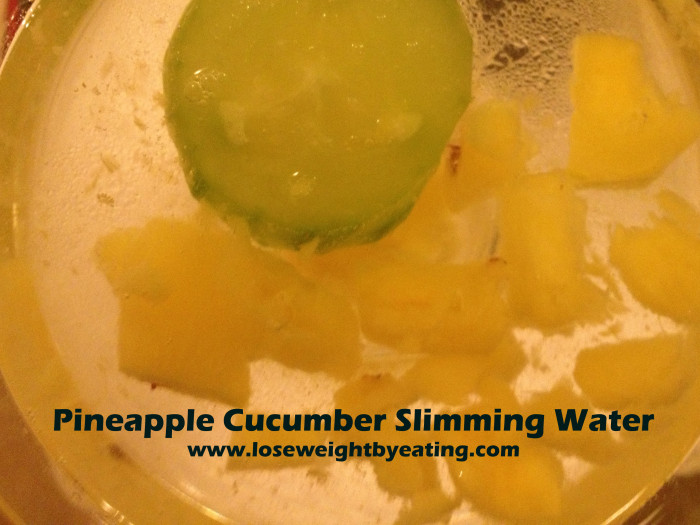 If you're looking for a drink to help reduce tummy bloat while increasing metabolism, this delicious tropical quencher is just what you need.
Cucumbers don't just help reduce puffy eyes at the spa, they help reduce tummy bloat and all over swelling. They are packed full of antioxidants and potassium making this the perfect drink to sip after and during a strenuous workout.
Pineapples naturally raise your metabolism and all the vitamin C will help you ward off illness. Like the cucumber, pineapples are full of antioxidants, though we love them most for their sweet tart flavor.
Try this in place of sports drinks to naturally reduce inflammation and keep your body burning fat long after your workout is over.
Detailed recipe and credit – loseweightbyeating.com
25. Detox Green Tea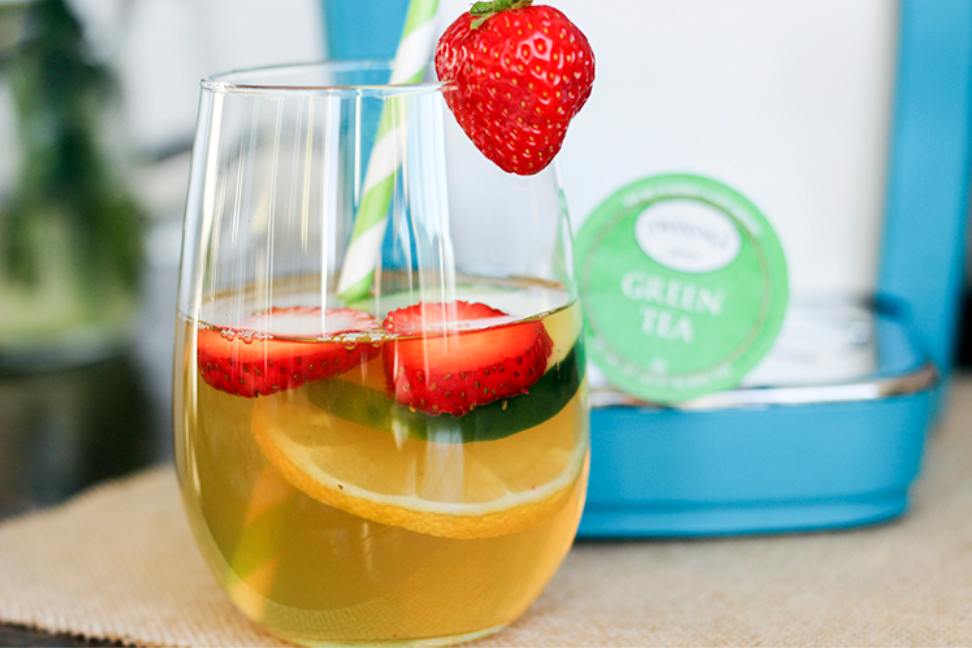 This refreshing drink has the added benefit of detoxifying green tea, it takes just 5 minutes to make and can be enjoyed any time of the day.
Green tea is packed with antioxidants which help rid your body of free radicals, which are known to damage healthy cells. The cucumber helps reduce bloat while the strawberries and lemons help increase metabolism with a healthy boost of vitamin C.
This drink is made even easier for Keurig owners, as there are directions to brewing this delicious detox water in your Keurig, as well as on a stovetop. Just be sure to look for organic tea for maximum benefits and minimum residual pesticides.
Detailed recipe and credit – skinnymom.com
Conclusion
Now that you have 25 recipes to choose from you don't have any excuses not to drink your water. We recommend a gallon of water, or fruit infused water a day for optimum health benefits, increased metabolism, firm and clear skin and a healthy digestive tract.
The jury is still out on how much these drinks help remove toxins from your body, but what we can be sure of is that by drinking them, you are pumping your body full of vitamins and nutrients that will make your healthier, more beautiful and increase your energy.
So drink up, and please be sure to comment below and tell us which were your favorite, other readers will be counting on you to share which of these 25 is the yummiest.