Metabolism Boosting Apple Pie Tea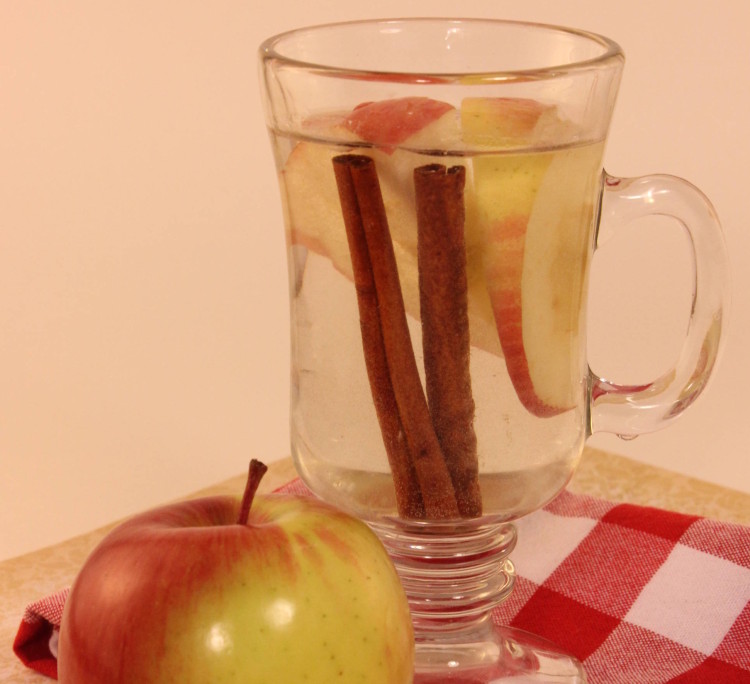 With the days getting shorter and the nights colder, we've got a great hot fruit infused water recipe that will warm you up and tastes great too.
Now that the weather has turned cold I wanted to try a warm version of my favorite Apple Pie flavored drink and this was the perfect choice.
What you need:
(makes 2 liters)
1 Fuji or other sweet apple thinly sliced
2 Cinnamon Sticks (do not use powder it will not dissolve)
Get started:
You have two options, the tea pot or tea cup method.
For the tea pot method, pile all the ingredients into your tea pot, cover with water and bring  to a boil. Serve in a tea cup or travel mug with an extra cinnamon stick to stir with if desired.
For the tea cup method, place 1/4 of your apple slices and 1/2 a cinnamon stick to a tea cup or travel mug, pour boiling water over the cinnamon stick and apples and  let seep until cool enough to drink, 2-4 minutes. Refill tea cup with  hot water until the flavor is lost, at that time discard used fruit and  cinnamon and add another 1/4 cup of your apple slices and another 1/2 cinnamon stick.
This Apple Pie Tea recipe is part of the Metabolism Boosting chapter of our cookbook
Fruit Infusion: A Collection of Day Spa Inspired, Fruit Infused Waters
.
  It's a colorful cookbook full of metabolism boosting, fat burning drinks,  teas, sodas and ice cubes. With over 40 recipes to choose from you and  your taste buds will never be bored with water again!