Fruit Infused Water Recipes
Fruit infused water recipes are one the easiest things to make in the world, and are also some of the best resources available for weight loss. By simply adding fruit or other flavor infusing ingredients to water, you can transform ordinary water into something that is delicious and good for you, too.
For best results, a fruit infused water bottle is recommended to make it more convenient to have fruit infused water any time. They're tough, attractive, and the ultimate in fruit infusing convenience.
Below is a list of our most popular fruit infused water recipes to get you started on your weight loss journey. Remember to be creative and try new combinations, what's important is that you enjoy the water and drink LOTS of it.
We'd love to hear what fruit infused water recipes you have created in the comments below.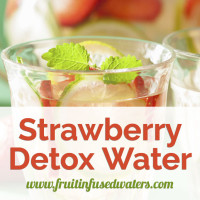 Strawberry detox water is consistently one of the most popular infused water recipes we've ever seen. There's something about the delicious taste of…
Fruit Infused Water Recipes Conclusion
As you can see, there are literally millions of ways to create fruit infused water. Do you have any new creations you'd like to share? Let us know in the comments below!