Honeydew Mojito Workout Water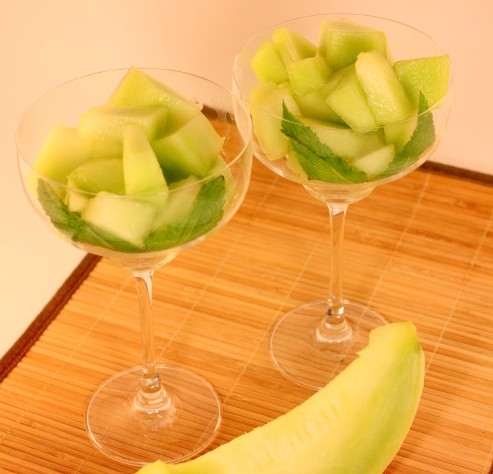 This vitamin C-rich Honeydew Mojito Workout Water is sure to keep your metabolism going strong. In addition, the mint will help cool you down after a hot workout.
Make this Honeydew Mojito Workout Water in a water bottle and take it with you!
Makes one 1 liter water bottle
4 mint leaves
½ cup honeydew melon, sliced into sticks
½ lime, thinly sliced into rings or sticks
If the bottle is full, pour out some water to make room for the fruit. If empty, add the fruit first. Add the mint, squeezing the leaves slightly to release the oils. Next, add the melon chunks. Curl up lime rings to fit into the mouth of the bottle. Top with water and place in refrigerator for 30 minutes. Refill with water when the mixture is halfway consumed. You can refill the bottle 3-5 times before replacing fruit.
*A note on the water bottle method: You may not be able to get the ingredients out if you use a traditional water bottle. For re-use, I recommend using a water bottle with a wide mouth for easier extraction of ingredients.
This Honeydew Mojito Workout Water recipe was written for the Workout Chapter of my first cookbook FRUIT INFUSION, a colorful cookbook full of metabolism boosting, fat burning drinks, teas, sodas and ice cubes. With over 40 recipes to choose from you and your taste buds will never be bored with water again!