Day Spa Pineapple, Grapefruit and Apple Water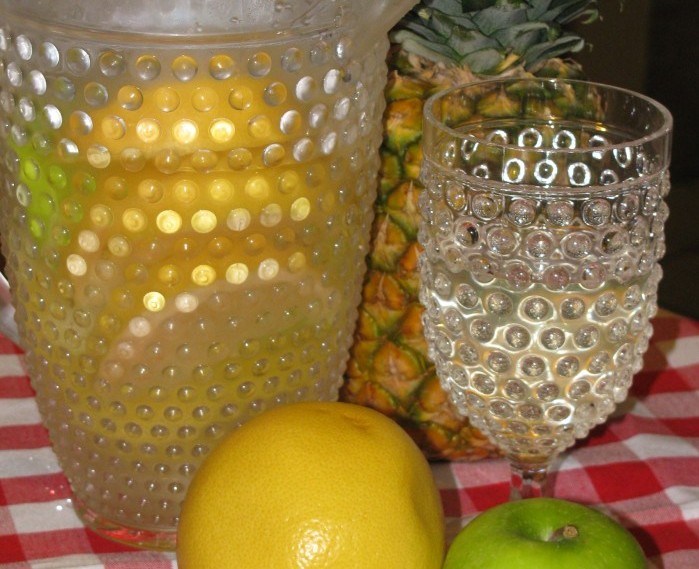 Did you know both grapefruit and apple boost metabolism and curb your appetite? I love foods that help me with my weight loss journey and these two are big ones. Top that with water also curbing your appetite and you have a great refreshing drink that works for you!
Use your favorite kind of apple I used a Green Apple because I wanted to play up the tartness of the grapefruit, if you like your drinks more on the sweet side use a Sweet Crisp or Fuji and use the whole thing. You can also squeeze the pineapple as you add it in, it might add between 5-10 calories to each glass but that is nothing! You burn 5 calories drinking the glass of water!
Makes 1 big pitcher, you can re-fill 3-5 times.
Ingredients:
1/2 Grapefruit
1/2 Apple
1/2 of a Pineapple- fresh
Ice and Water- Fizzy water is good too, just skip the ice.
Get started:
Cut the Grapefruit into medium sized slices, same with the apple and add into a pretty juice pitcher. Cut the pineapple into medium to thin slices, ideally you want to try and get all the slices about the same size. Add the pineapple squeezing a little if you want it sweeter, then top with 2 cups ice, top that with water and place in the fridge for 4 hours. Once you have enjoyed 1/2 of your pitcher of water re-fill it and you can repeat this as long as the flavor stays.
Check out our Fruit Infused Water Bottle and Pitcher reviews for information on the best flavored water infusers.
I hope you can learn to enjoy flavored waters and put down sodas and fake sugar drinks like Crystal Light, Mios and Propel. Those are just chemicals, they are not good for you!
Find more Metabolism Boosting drinks like Day Spa Pineapple, Grapefruit and Apple Water, Ice Cubes, Teas and Sodas all meant to help you drink more water and lose weight in my first cookbook FRUIT INFUSION: A Collection of Day Spa Inspired, Fruit Infused Waters.