Day Spa Apple Cinnamon Water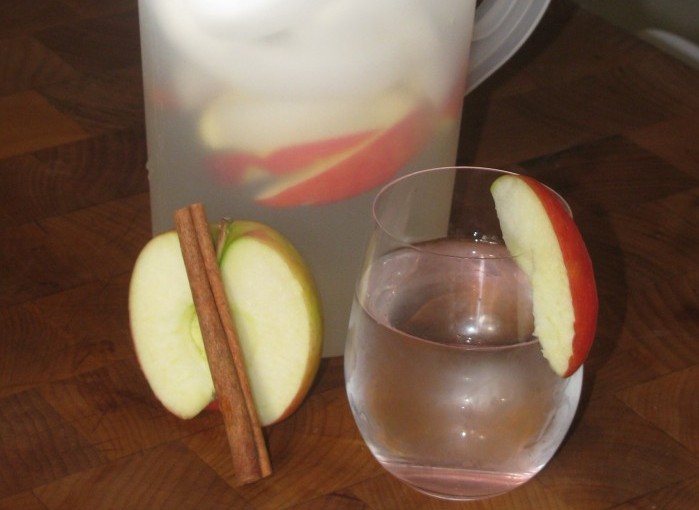 Did you know both apples and cinnamon raise your metabolism? Try this now famous Apple Cinnamon Water drink, and any day can feel like fall.
Fuji and Honey Crisp apples work best as they are the sweetest. Keep in mind this drink has a hint of flavor, should you want it stronger add more apples or slice them thinner.
The Original Day Spa Apple Cinnamon Water Recipe was created by Audrey Johns, founder of LoseWeightbyEating.com and author of this website.
Makes 2 liters, re-fill water 3-4 times before replacing apples and cinnamon.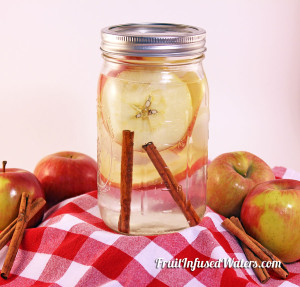 INGREDIENTS:
1 Apple thinly sliced, I like Fuji but pick your favorite
DIRECTIONS:
Drop apple slices in the bottom of the pitcher (save a few to drop in your glass later) and then the cinnamon stick, cover with ice about 1/2 way through then with water. Place in the fridge for 1 hour before serving.
LASTS FOR 24 HOURS IN THE FRIDGE.
Check out our Fruit Infused Water Bottle and Pitcher reviews for information on the best flavored water infusers.
Some people have commented that Cinnamon Sticks are too expensive or unavailable in their area. Here is a killer deal, 5 lbs for $25! Maybe split it with 5 of your friends to save some $$
Nutritional Info for Day Spa Apple Cinnamon Water:
Calories: 0
Fat: 0
Fiber: 0
Protein: 0
Carbs: 0
Check out more Metabolism Boosting drinks like Day Spa Apple Cinnamon Water, including Ice Cubes, Teas and Sodas all meant to help you drink more water and lose weight in my first cookbook FRUIT INFUSION: A Collection of Day Spa Inspired, Fruit Infused Waters.