Delicious Detox Cucumber Lemon Water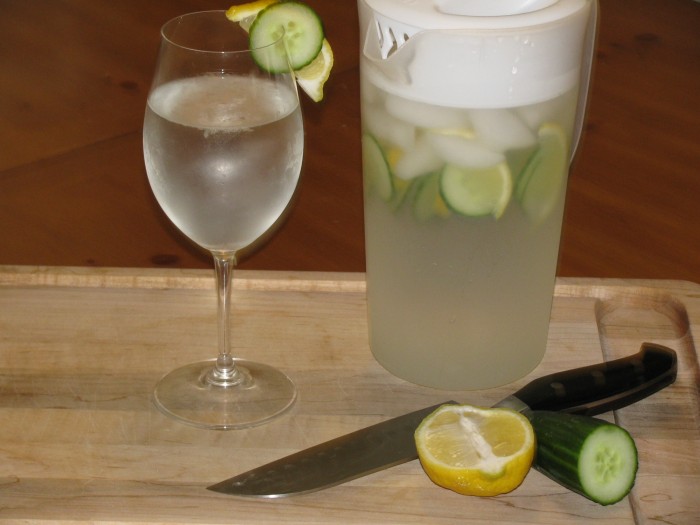 Have a few too many cocktails last night? Feeling a little bloated or uncomfortable in your clothes? Try this immunity boosting, anti-inflammatory Cucumber Lemon Water that will fill you up, flush your system and make you feel better in no time.
This flavorful drink infuses the unique flavor of cucumbers with the sweet tart of lemons to create a really tasty infused water recipe.
Additional Benefits of Cucumber Lemon Water
Not only is Cucumber Lemon Water refreshing, it's loaded with plenty of vitamins and nutrients. The cucumber acts as an anti-inflammatory and the lemons boost immunity.
Cucumbers and lemons are both packed with antioxidants like vitamin C and caffeic acid. As an added bonus, the vitamin C also increases collagen and elastin production, resulting in younger-looking skin. Plus, cucumbers have natural anti-inflammatory properties that prevent water retention, and silica to promote healthy connective tissues.
You can even wash your face with Cucumber Lemon Water!  It refreshes the skin, closes pores and helps prevent oiliness.
Makes 2 Liters
1/2 lemon, thinly sliced
1/4 cucumber, thinly sliced (about 4 inches)
2 cups of ice
Water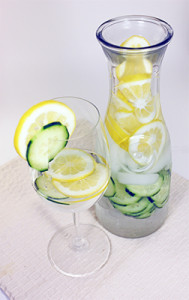 In a large pitcher, add the lemon and cucumber. Top with ice and water. Let the pitcher sit in the fridge for 1 hour before serving. Pour into a large wine glass, put up your feet and relax.
When the water is down to 1/4 full in the pitcher, refill with water and place back in the fridge. You can do this several times. Store in the fridge up to 24 hours.
Check out our Fruit Infused Water Bottle and Pitcher reviews for information on the best flavored water infusers.
Find more Metabolism Boosting drinks like Cucumber Lemon Water, including Ice Cubes, Teas and Sodas all meant to help you drink more water and lose weight in my first cookbook FRUIT INFUSION: A Collection of Day Spa Inspired, Fruit Infused Waters.