Cooling Peach Mint Water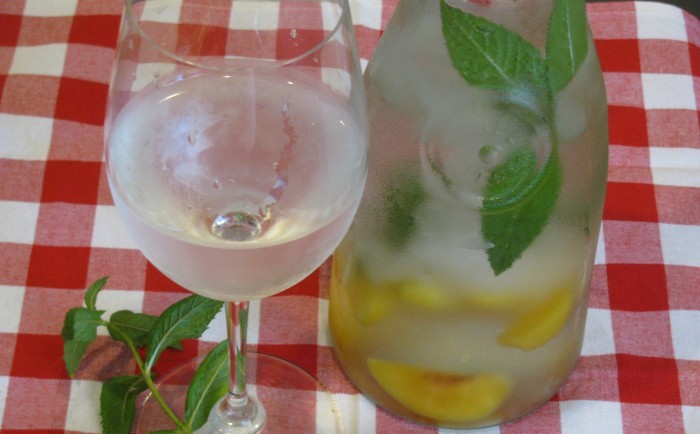 When it is hot outside, and I mean HOT you need something that will cool you off, Mint does just that! Plus water naturally cools you off, like free air conditioning, and suppresses your appetite to help you lose weight just like the peaches in this recipe. Can you think of anything better than to sit outside reading a book with some Peach Mint water? I feel relaxed just thinking about it.
This combo is light and refreshing, if you prefer it sweeter drop a couple of peach slices into your cup it really intensifies the peach flavor, you can also add a splash of vanilla to add sweetness to the pitcher as well. I use frozen peaches, the slicing, pitting and removing of the skins is too labor intensive for me, if you choose to use fresh peaches do all that, place in bag and freeze before making this.
Makes 1 pitcher refill up to 8 times
1 long sprig of Mint, or a handful of leaves you can tie together with kitchen twine
10 frozen Peach Slices, plus more to garnish (optional)
Water and Ice
I found that leaving the mint leaves on the sprig was easier and I got less debris in my drink that way too.  Drop peaches in your pitcher, then the mint, top with ice and water and place in fridge for 4 hours or overnight. Serve in a wine glass*, garnish with a frozen peach slice (also acts as an ice cube) you can refill the pitcher up to 8 times, or until the flavor dissipates.
* I use this trick often, I place my water in a pretty wine glass or in my fancy Stella glass. If you try this you might just trick yourself into thinking you are indulging. My favorite thing to do it put fizzy water in my Tiffany Champagne Flutes, I feel like I am having my all time favorite drink but it is zero calories and good for me.
Check out our Fruit Infused Water Bottle and Pitcher reviews for information on the best flavored water infusers.
Find more Metabolism Boosting drinks like Cooling Peach Mint Water, including Ice Cubes, Teas and Sodas all meant to help you drink more water and lose weight in my first cookbook FRUIT INFUSION: A Collection of Day Spa Inspired, Fruit Infused Waters.