Fruit Infused Water Recipes and Tips for Weight Loss
You hear it all the time – for weight loss and better health you need to drink more water. But what do you do if you don't like the taste of water?
What if you're addicted to sugary or chemical-filled diet drinks? Fruit Infused Water is filled with delicious fruit infused water recipes to help you break your soda and sugary drink addictions with naturally sweetened drinks.
These naturally flavored fruit water recipes help you lose weight, burn fat, ease stress, heal minor ailments and curb your sweet tooth. Many of these infused water recipes have played a key role in the Lose Weight By Eating plan. Drinks like: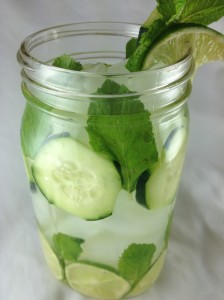 Check out our Infused Water Bottle and Pitcher reviews for information on the best flavored water infusers. These portable water bottles are durable and help support your weight loss efforts by encouraging you to drink more infused water wherever you go.
Audrey Johns is a weight loss guru who lost 150 pounds in 11 months by cooking and eating real food, and not by demonizing it. She embraced movement, cut out processed food and counted calories.
As she lost weight, Johns was bombarded by the question "What are you doing to look so great?" She began blogging on her site, Lose Weight by Eating, and shared her recipes and weight loss tips.
Johns' blog grew a following of over 8 million in less than 2 years. She is now a Food & Wine Journalist, celebrity TV personality, and has a YouTube channel that has had over 150,000 views and 1000 subscribers. The Lose Weight by Eating Facebook Page has a following of over 120,000 followers.
Watch Audrey demonstrate her recipe for the Original Day Spa Apple Cinnamon Water.
Check out more fruit infused water recipes, including Ice Cubes, Teas and Sodas all meant to help you drink more water and lose weight in my first cookbook FRUIT INFUSION: A Collection of Day Spa Inspired, Fruit Infused Waters.